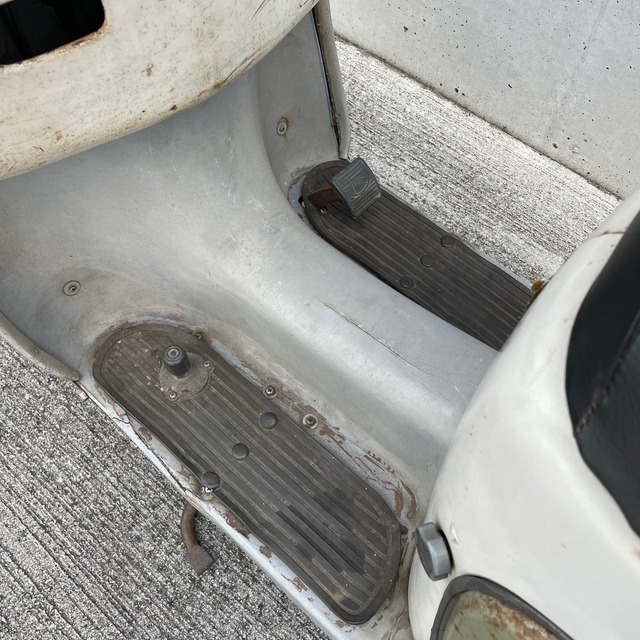 puako shop / fuji rabbit / vintage japanese scooter / model s301 superflow 125 / 1960's
¥330,000tax included
¥412,500 20%OFF
the last one
Japan domestic shipping fees for purchases over ¥30,000 will be free.
Shipping fee is not included. More information.
富士重工の名作と名高いラビットスクーター "model s301" 最終型モデル

「superflow 125 S-301BH」1965年発売、S-301Bの変速装置に流体トルクコンバーターを採用したモデル。「PUAKO SHOP」によって公道復帰のための軽整備が施された車体。125ccで二人乗り可能。ホイール周りの黒塗装と磨きがアクセントに、珍しいミントグリーン色と経年変化による錆、ヤレ感が雰囲気を醸し出している。調子も良く街乗りにもお勧めの一台。希少価値の高い純正ミラー左右&鍵付き。全国発送も承ります。

*入門車として特別価格となります。高松店にお引き取りの場合のみ送料無料となります。

PUAKO SHOP
1946年に誕生した国内最初のスクーター「ラビット」。徳島の #プアコショップ は、半世紀以上も前に生産が終了しているラビットの修理販売を行う専門店。

Japan's first scooter, "the Rabbit", was born in 1946. It was introduced during the post-war reconstruction of Japan and became a popular model for a while, but then lost its position as a "work bike" to the "Super Cub" introduced by Honda Motor Co. The "PUAKO SHOP" in Tokushima specializes in the repair and sale of Rabbit, which has been out of production for more than half a century.
Shipping method / fee

Payment method
¥330,000tax included
¥412,500